Guaranteed Income
Diversified Investment Options
Income Ever After
How It Can Work for Your Retirement
Find out why Barbara chose a variable annuity with a living benefit rider to help meet her retirement goals.
Growing and Protecting Retirement Income
Annual Compounding
FlexChoice Access uses a Benefit Base to determine future lifetime income. The Benefit Base cannot go down because of market losses, but it has growth potential. The initial investment determines the Benefit Base, which compounds at 5% for the first 10 contract years in years where there are no withdrawals taken, regardless of what happens in the market or to the account value.1
Locking in Market Gains
You can capture market gains through Automatic Step-Ups of your Benefit Base if the account value increases and is greater than the Benefit Base on any contract anniversary prior to your 91st birthday.2
Flexible Withdrawal Options
The amount available for withdrawal is based on the age of the owner, or older owner if jointly owned, at the time of the first withdrawal after age 59½. You can start taking 4.75% or 6% withdrawals at age 65 depending on the choice of two withdrawal options.
Income Ever After for Married Couples
Unlike many retirement income products, with FlexChoice Access the amount of income received is based on the age of the oldest owner. This can mean getting a higher withdrawal rate sooner instead of having to wait years for the younger spouse to "catch up" to a minimum age. With FlexChoice Access, the initial withdrawal rate is the same for married and single clients.3
If something unexpected happens, it's important to know that your spouse can continue to receive the income they need in retirement. With FlexChoice Access, the surviving spouse continues to receive the same income payments they've come to rely on with no interruption.4,5
Personalized Investment Strategy
Designed to Meet Your Needs
One way to help grow the money needed in retirement is to invest in a diversified portfolio to help weather varying market conditions.
For the best experience, the FlexChoice Tool is best viewed on a Tablet or Desktop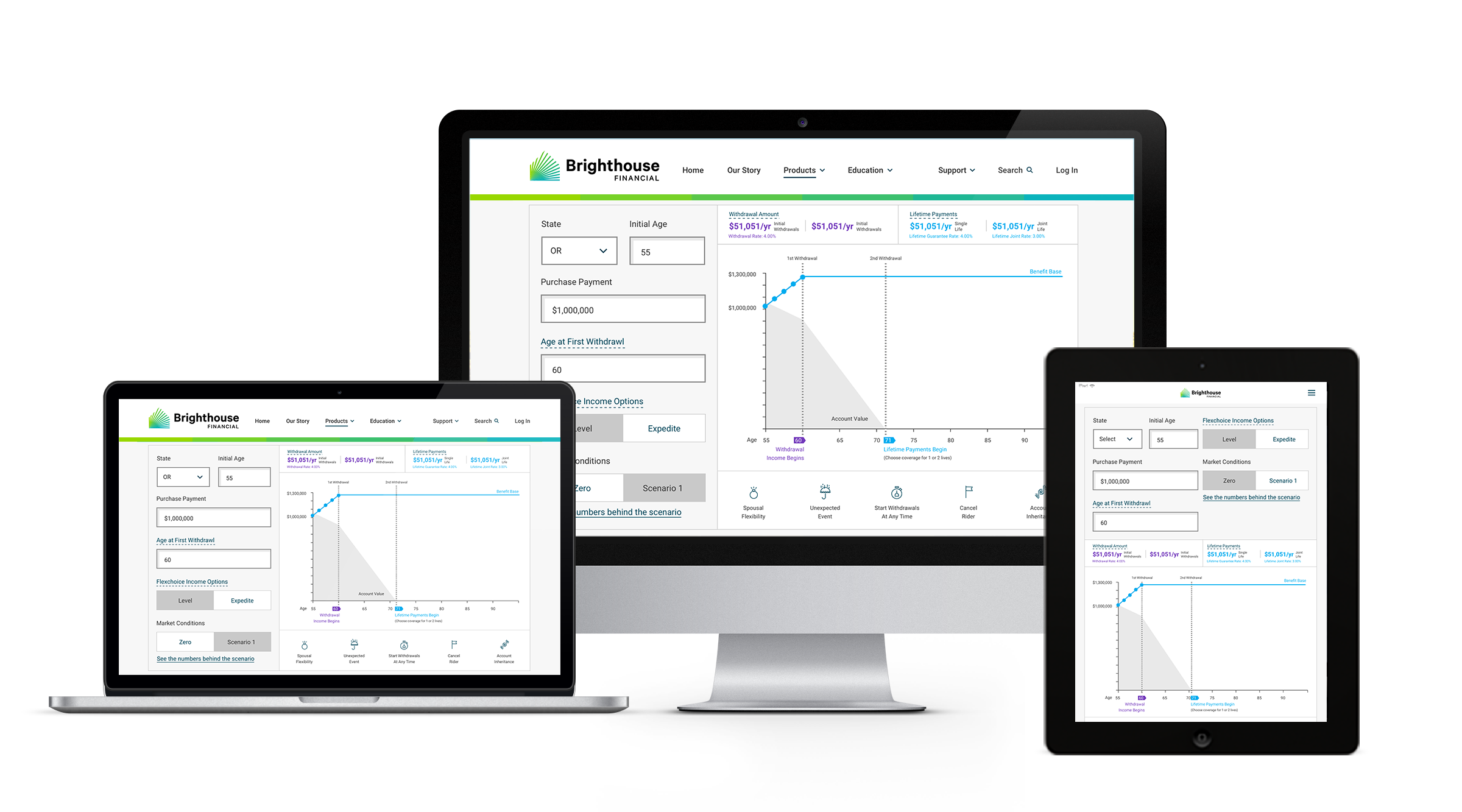 FlexChoice Access offers the opportunity for you to design an investment strategy that works for you by selecting from the available asset allocation and risk managed global multi-asset portfolios or choosing to build a more customized portfolio from the individual investment options available.
Asset Allocation Portfolios
Individual Investment Options
Your financial professional can help you determine which strategy is right for you.
Learn how building a diversified portfolio with a mix of products and investments can help ensure a level of protection during market volatility, to help you achieve income guarantees in retirement.