Variable Annuities with
FlexChoice Access
Income when it's needed most.
Rising life expectancies can mean planning for a longer retirement. A variable annuity with the optional FlexChoice Access living benefit rider can help turn a portion of your retirement savings into guaranteed income for life.
Lifetime Income With Fewer Compromises
Guaranteed Income
Flexible Investment Options
Spousal Income Continuation
Visit Fund Resources to see up-to-date information for all investment options available for this product.
Grow and Protect Retirement Income
Receive 5% Annual Compounding
To determine future lifetime income, FlexChoice Access uses a Benefit Base – determined by your initial investment – that compounds at 5% for the first 10 contract years in years where no withdrawals are taken. No matter what happens in the market or to the account value, your Benefit Base won't decline.1
Lock In Any Market Gains
Capture market gains through Automatic Step-Ups of your Benefit Base if the account value increases and is greater than the Benefit Base on any contract anniversary prior to your 91st birthday.2
Flexible Withdrawal Options
Because no two retirement strategies are the same, FlexChoice Access has options for different needs. The Level option can provide a consistent amount of payments for your lifetime. Expedite can provide a higher withdrawal rate early in retirement, with a lower Lifetime Guarantee Rate if the account value is reduced to zero. The amount available for withdrawal is based on the age of the owner, or older owner if jointly owned, at the time of the first withdrawal after age 59½.3
Income for Your Spouse
FlexChoice Access provides guaranteed income payments with no interruptions for the surviving spouse.4 While the initial withdrawal rate is the same for married and single clients, if something unexpected happens, it may be comforting to know that your spouse can continue to receive the income they need in retirement.5
Personalized Investment Strategy
Investment Options Designed to Help Meet Your Needs and Goals
We offer two ways to build a diversified portfolio to help weather unpredictable market conditions
For the best experience, the FlexChoice Tool is best viewed on a Tablet or Desktop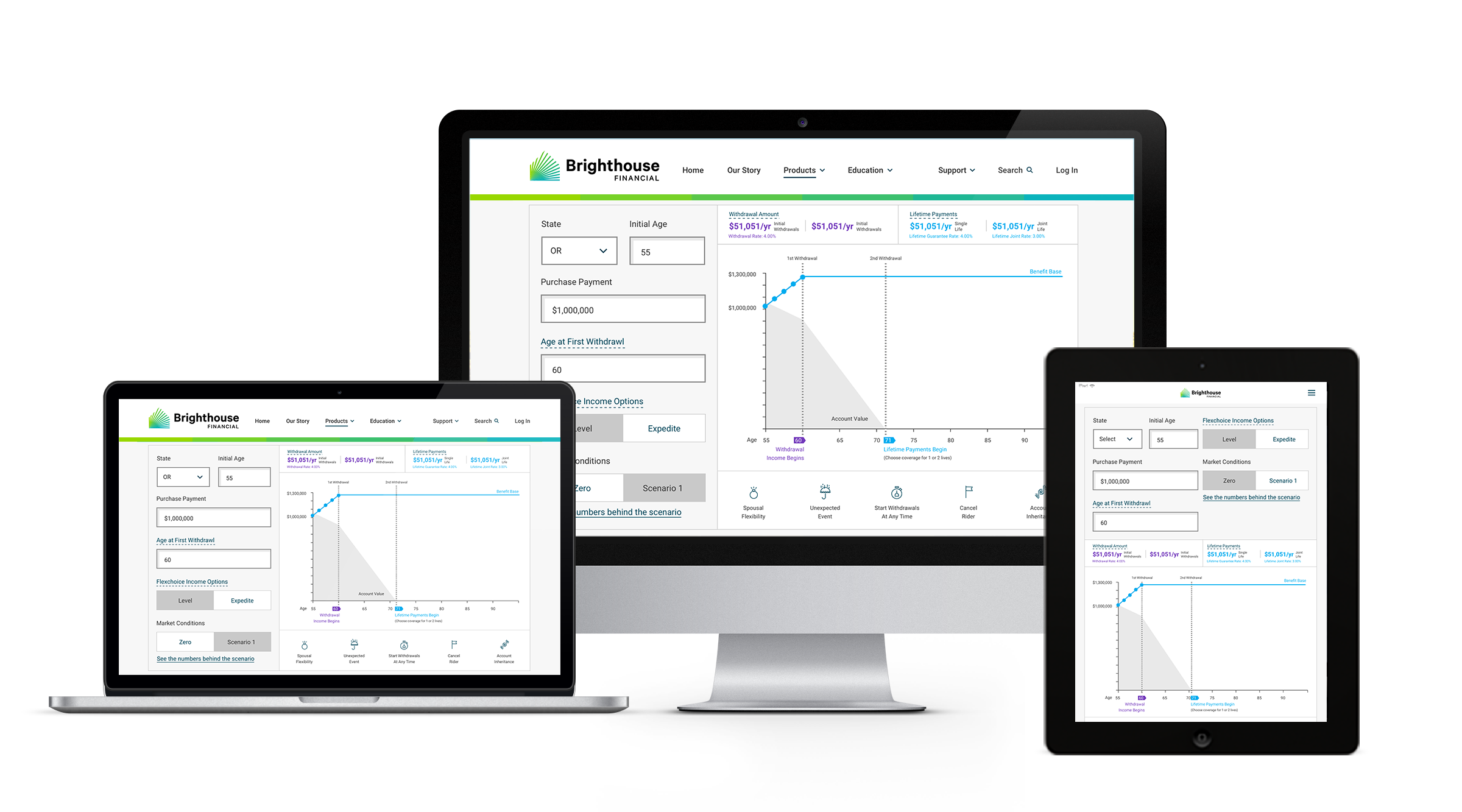 Learn more about diversification, a key strategy for building a balanced investment portfolio.
Prospectus and Resources
Download these resources for more detailed information about this product:
Resources Specific to New York
Take the Next Step
Talk to your financial professional about whether a Brighthouse Financial variable annuity is right for you and how to purchase this product.
Here are some questions to help you start the conversation:
Can FlexChoice Access give me the option to receive more money earlier in retirement instead of waiting?


Am I able to lock in market gains with FlexChoice Access?


Can FlexChoice Access provide my spouse income if I pass away unexpectedly?
Use this product brochure to help prepare for the conversation with your financial professional.
Brighthouse Financial® is on a mission to help people achieve financial security.
Trusted by over 2 million customers and with over 2 million annuity contracts and life insurance policies in force, Brighthouse Financial® is proud to be a Fortune® 500 company and one of the largest providers of annuities and life insurance in the U.S.7
See Our Story