5-Minute Article
|
Nov 05, 2019
5 Ways to Improve Your Financial Health
Financial professionals can offer guidance that benefits your retirement goals and overall financial health.
Questions this article can help you answer:
What can a financial professional help me with?
What are some questions to ask a financial professional?
What role does a financial professional play in planning for medical expenses?
A good financial professional is like a doctor: one helps take care of physical health, while the other helps protect financial health. Just as you consult a doctor for a range of health questions, you can work with a financial professional for more than just retirement planning.
In fact, simply having a financial professional could be good for your mental health: 70% of baby boomers who work with a financial professional describe themselves as "excited and confident" or "happy and cautiously optimistic" about retirement versus just 33% of respondents without one.1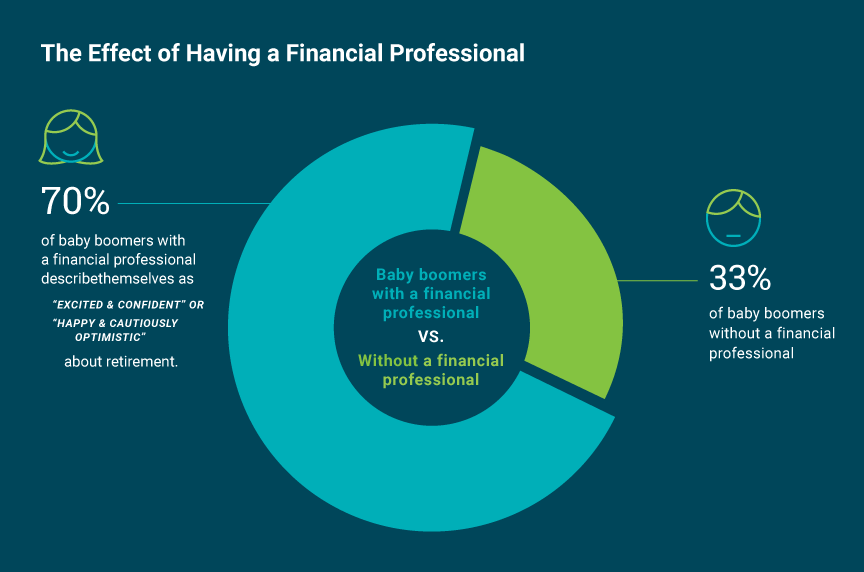 Here are five areas where your financial professional can help you keep your finances in top shape.
Having enough savings is an essential part of financial health. Your financial professional can provide crucial guidance on optimizing a savings strategy – from how much to save to how to reduce expenses.
Develop and refine key parts of a savings strategy by asking your financial professional questions such as:
- How much money do I need to achieve my desired lifestyle before and after retirement?
Your financial professional can help clarify financial goals, develop estimates for how much it will cost to achieve them, and create monthly savings targets to help keep you on track.
- How can I save while managing competing financial priorities?
Financial professionals can help prioritize different financial goals, such as saving for retirement and children's education, or setting aside money for vacations or home improvement. Financial professionals can also help identify the most effective mix of savings tools to reach those goals.
Ask questions like these to get guidance on investment decisions:
- Do I have the right mix of investments for my age and income?
Many people change their investment mix as they age, moving from an emphasis on growth in earlier years to the need for income and savings protection near retirement. A financial professional can help determine the mix of stocks, bonds, cash, and other tools to provide the right balance of potential growth and income for an individual's age, income, and other factors.
- How can I reduce the risks in my financial plan?
People face multiple risks to their savings, from the threat that market declines will decrease the value of investments to the chance that they'll outlive their savings. Some people are more concerned about certain risks than others – and a financial professional can help identify the most pressing concerns and develop an appropriate investment strategy to manage them. For example, a financial professional might suggest a guaranteed income strategy for someone particularly concerned about running out of money in retirement.

Taxes may be a fact of life, but there are tax-smart strategies that can reduce their impact.
Work toward minimizing your tax burden by asking questions such as:
- What are the tax implications of making changes in my investments?
Financial professionals can explain the tax implications of buying and selling different investments, which may help you keep more of the potential gains. For example, short-term investment gains are taxed at a higher rate than long-term ones, so timing is important.
- How can I minimize taxes in retirement?
Your financial professional might suggest a diverse mix of retirement accounts with different tax structures. For example, some people balance withdrawals from 401(k)s and traditional IRAs – which are subject to income tax – with income from a Roth IRA, which is generally tax-free, if account provisions are followed.

Health care costs are among the top retirement concerns for most Americans, but financial professionals can help you prepare for these expenses.2
Asking these questions can help ensure that health care considerations are included in a financial plan:
- How do I make sure I'm well taken care of in the event that I can't make medical decisions for myself?
Financial professionals can assist by connecting you with other professionals, such as an elder care lawyer to draft a medical power of attorney that designates who will make medical decisions in case it is needed. Financial professionals can also guide you on how to communicate your intentions to your designee.
- How can I make sure I have enough money for future medical expenses?
Medical expenses can be substantial: It's estimated that the average couple needs $285,000 in today's dollars to cover them in retirement.3 There are types of insurance that specifically address future medical expenses, such as long-term care insurance riders and chronic illness coverage. A financial professional can help assess an option's suitability and review existing coverage to determine any gaps.
Thinking about what will happen to your money after you're gone may be difficult, but planning ahead can help you ensure that your loved ones are taken care of financially. Financial professionals can explain the importance of this process and partner with other professionals to help you develop an estate plan.
Important questions to ask:
- How can I ensure that my money and other assets go where I want them to after I'm gone?
A financial professional can help find an estate planning attorney to develop a legal structure that reflects your wishes while identifying insurance or other financial tools that provide for surviving spouses and children.
- How do I implement my estate planning attorney's recommendations?
Financial professionals play an essential role in implementing estate plans – from making sure specific assets are correctly titled and transferred to trusts, to reminding people to update beneficiary forms on retirement accounts, insurance plans, and other documents.

Asking these questions can help you control important financial decisions and maximize the benefits of a relationship with a financial professional.