Shield Level Select Access Annuity
.
Brighthouse Shield Level SelectSM Access Annuity provides clients with the freedom to pursue various retirement strategies that will help them continue to invest in the markets while offering some protection from losses that could harm your long-term plans.1
Looking for Shield rates? Get them on our Shield Rates page
Learn how a Shield annuity can play an essential role in diversifying your retirement planning.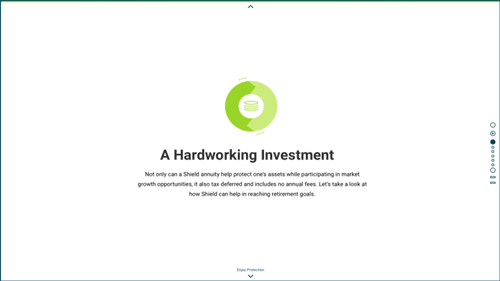 Shield Level Select Access Benefits
Discover how protection and participation with no annual fees can lead to a brighter financial future.
Protection
Annuities can play an important role. In order to achieve your client's financial goals, they need to employ more than one strategy. When planning for retirement, they can't risk everything and they can't protect everything. But there is a way for them to have some of both. A Shield Level Select Access annuity from Brighthouse Financial* can help your clients use a portion of their assets to take advantage of market growth with the assurance of a level of downside protection other investment options may not provide. Shield is designed to provide some protection in an unpredictable endeavor — investing.

Participation
Equities — they're still a great retirement asset. Sure, investing in equities has its ups and downs, but anyone who has looked at historical returns knows the truth. Equities can offer a great opportunity for your clients retirement assets to potentially grow, which is eye-opening when looking at the numbers.
For example, 5.4%. That's how much the average investor has underperformed the broader market over the past 20 years. Why? Because investors often sell at the first sign of bad news.2 What about your clients' retirement portfolio? Are their numbers telling this same story?
Shield is specifically built to help your clients take advantage of some of the potential growth opportunities equities offer. But what about the possibility of a significant market downturn? We've got that covered, too. With Shield, balance is built-in so clients can enjoy potential equity-like returns while protecting a portion of the assets in their Shield annuity against unforeseen losses.
Pay No Annual Fee
Consider a strategy that won't add to your client's overall investment portfolio fees. A Shield Level Select Access annuity has no annual fees. The client pays an asset-based fee to the advisor. Brighthouse Financial is able to realize earnings through the assets deposited in the product. Importantly, any money we earn is not taken from the growth provided by the selected index beyond the Cap Rate and Step Rate specified in the Shield Level Select Access annuity.
Remember that Shield is designed to work over the full length of your client's' term by providing exposure to equities that may help them accumulate funds.
The right level of protection
Like its name implies, Shield is able to protect your client's account assets from some of the losses that can derail portfolio performance. The best part is that they have a built-in level of protection — or Shield Rate — as well as the potential growth opportunities offered by the index or indices selected.

Locking in potential growth

The Cap Rate is the maximum growth that your client can earn for the term.
The Step Rate lets your client lock in pre-determined growth if your chosen index is either flat or up for the term.

It's their money, on their terms
A Shield annuity immediately puts your client's money to work and lets them participate in some of the growth opportunities the market offers, up to your client's selected Cap Rate or Step Rate. At the end of the term, we'll compare the index value at the beginning and the end of each term and factor in the level of protection, as well as the Cap Rate or Step Rate, which will result in the new account value. At the end of the term, your client may continue to keep their investment allocation the same or adjust it to meet their changing needs. The fact card enclosed in your client's Shield Level Select Access Annuity materials can give you more information.
Decide what assets to protect
This money will not only benefit from a level of protection, but can also take advantage of potential growth opportunities. Remember that a Shield Level Select Access Annuity is designed to work over the full length of your client's term by providing equity exposure via index tracking.
Choose the Shield Options that best fit your client's goals
Each Shield Option is a combination of time (term length), Shield Rate (level of protection), and index, along with a Cap Rate or Step Rate. Term lengths are available on the fact card.
Select an index or indices for your annuity:
S&P 500 IndexA
Russell 2000 IndexB
MSCI EAFE IndexC

Shield is an index-linked annuity, which doesn't invest directly in the chosen index or indices but rather tracks their performance. Our index choices are diversified among large-cap, small-cap, and international stocks.

Participate with protection across all markets
At the end of each term the account will be reduced only by the amount that exceeds your level of protection.4 For example, if your client chose to protect 10% of their account value and the index they selected dropped by 15%, they would experience only a 5% loss. At the end of the term, they can choose one or more Shield Option or remain in their current choices.5
Does Shield Level Select Access Annuity sound like a solution that fits your clients' needs?
To have us contact you with additional information, fill out the form below.